Moving In Clearwater, FL Just Got Easier
When most people think of Florida, they think of Miami or maybe Orlando and Disney World. When I think of Florida, I think of Clearwater, with nearly endless powder-sand beaches, great weather and of course, the Clearwater Marine Aquarium.
Clearwater is about more than just beach life, though. It's a quaint and moderately walkable city. People are friendly, the cost of living is reasonable and jobs are plentiful. It's no wonder Clearwater, along with the rest of Central Florida, is currently one of the top moving destinations.
What is it like to live in Clearwater?
Clearwater is the Pinellas County seat. With a population of around 110,000, Clearwater is big enough to have plenty to do but small enough to relax after a day's work or an afternoon on the beach.
Most of the jobs in Clearwater are office positions. Surprisingly, we have more computer and math jobs than 95 percent of American cities. Many of those employees telecommute. While the name isn't official, we like to call Clearwater "Silicon Valley East."
Unlike much of Central Florida, Clearwater is fairly diverse. There is a significant Hispanic population and it's a popular city for singles, young families and retirees. The median household income is right in line with the rest of Central Florida, at around $50,000 per year.
With a median home price just shy of $300,000, Clearwater is a bit more expensive than the U.S. as a whole, but you get a lot for the money. Many of Clearwater's homes are parts of homeowner associations. They come at a price tag, but those amenities often include pools, tennis courts, private parks and security. That could help explain why Clearwater property values have increased more than 42 percent in the last 10 years.
Clearwater's downtown area is going through some changes. New high-rise apartment and office buildings have popped up. There are great theaters, bars and restaurants already but more are in the works.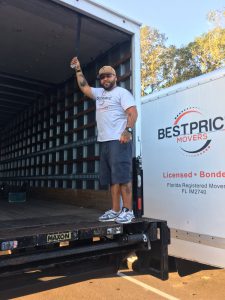 Why did I open BestPrice Movers in Clearwater?
I grew up in the military, which taught me a lot about moving. While I was researching Clearwater and Central Florida in general, I noticed that people weren't real happy with the movers in the area. I decided to do something about that by opening a truly customer focused moving company.
How is BestPrice Movers different from other Clearwater movers?
As a child of the military, I know how important great customer service is to the moving process. As for how we're different, though, it's pretty straightforward: BestPrice Movers offers highly skilled movers at an affordable and honest price.
From the moment you reserve a move through us, you'll be assigned a personal moving coordinator to ensure that everything goes smoothly.
If you're short on time, we offer full packing and unpacking services on both local and long-distance moves. If you're on a budget, we can show you ways to save money without breaking your back.
If you're like most of our customers, you'll do most of the packing and let our movers pack the hard stuff. No matter what, we can customize your moving package to your liking. Oh, and unlike most movers around here, we never charge you for the tape we use or the use of our wardrobe boxes.
If you want to learn more about BestPrice Movers, reach out to us. There's never any obligation.
CALL US TODAY FOR A FREE NO OBLIGATION QUOTE AND DISCOVER THE NUMEROUS BENEFITS OF HIRING OUR MOVING COMPANY FOR ALL YOUR MOVING NEEDS.
​
BestPrice Movers Clearwater, FL
(813) 724-3311