Why BestPrice Movers Is Becoming A Big Name In Temple Terrace
Temple Terrace, FL isn't the biggest city in Central Florida, but we still love moving people in and around this beautiful Tampa suburb.
Temple Terrace might be a stone's throw from Tampa, but it has its own identity. Roughly 100 years ago, Temple Terrace was formed as a Mediterranean-Revival golf course community. The town is also known for growing its own type of orange, a tangor, which is a cross between a mandarin orange and a common orange.
What is moving to Temple Terrace like?
Over the last few years, Central Florida has become one of the top moving destinations in the United States, for good reasons. Temple Terrace's cost of living is very reasonable for what you get. Niche gives Temple Terrace an "A" grade for its schools, family life, nightlife, diversity and crime and safety.
The weather is sunny and pleasant. There are nearby beaches galore. We're close to Disney World (of course!) and despite its relatively diminutive size, there are great restaurants and a good nightlife. And the Temple Terrace Golf and Country Club is still going strong after celebrating its 100th anniversary this year.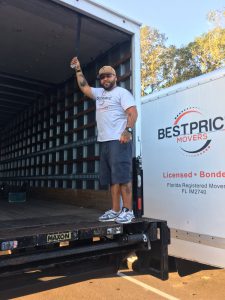 Why did I open BestPrice Movers in Temple Terrace?
Temple Terrace is one of the smaller bergs in Central Florida. If you were to call a mover outside of Central Florida, there's a good chance they haven't even heard of our favorite little secret. But that's not why we started servicing Temple Terrace.
You can say I'm no stranger to moving, even as a kid. My family was in the military, so we moved a lot. It didn't take me long to learn the goods and the bads that movers have to offer. I remember trying to help the movers pack. Some even showed me how. I learned to fall in love with moving because it was all about possibilities.
What kind of services does BestPrice Movers offer in Temple Terrace?
After growing up and moving to Central Florida, I decided to take everything I learned from all my childhood moves and create the best moving company around. I hired the best people and trained them well.
For our customers, I expect dedicated service and meticulous standards. Each of our customers receives their own moving coordinator. Whether you're on a budget or in a hurry, we will listen to your needs and customize our services to work for you.
Even if you choose not to take advantage of our full packing and unpacking services, we'll still disassemble and reassemble your furniture. Your bed will be ready to be made by the time we leave your new home. We offer free use of our wardrobe boxes.
Find out what your neighbors are talking about when they say they've found the best mover in Central Florida. Give us a shout. There's never any obligation.
CALL US TODAY FOR A FREE NO OBLIGATION QUOTE AND DISCOVER THE NUMEROUS BENEFITS OF HIRING OUR MOVING COMPANY FOR ALL YOUR MOVING NEEDS.
BestPrice Movers Temple Terrace
(813) 724-3311