Are You Moving In St. Petersburg? BestPrice Movers Has You Covered
I once read that St. Petersburg, Florida (St. Pete) holds the record for the most consecutive days of sunshine. Since we're in the middle of the Sunshine State, that's pretty amazing. Of course, with all the sunshine, St. Petersburg gets pretty hot. It's a good thing we have 35 miles of smooth, sugary white sand beaches to cool us down.
What is it like to live in St. Petersburg?
After the emerald green ocean beaches close, you can enjoy any number of air-conditioned options. We have nightclubs, bars and great restaurants. During the day, there's tons of shopping, golfing, boating, art galleries and pretty much anything else you might think of. Did you know that St. Petersburg is one of the largest destinations for kiteboarding?
St. Petersburg is a diverse and welcoming city. Come explore the city's "gayborhoods" with charming bungalows and adorable coffee shops and boutiques.
A few decades ago, St. Petersburg was best known as a retirement community. While 15 percent of the city is over 65, it's seen an influx of younger people looking for a great lifestyle and an affordable cost of living.
St. Petersburg isn't just a place to have fun. Its downtown area is filled with high rise office buildings hosting jobs in all industries, from financial firms to the Home Shopping Network. St. Petersburg is ranked one of the best places in Florida to find a job.
Why did I open BestPrice Movers in St. Petersburg?
I was born into a military family. Needless to say, we moved a lot. Some of those moves were great and others…well, I will politely say they weren't great. I've always loved St. Petersburg and I thought "who's better qualified to open a moving company in St. Petersburg?" I haven't looked back.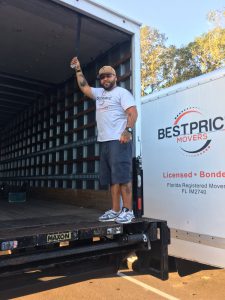 How is Best Price Movers different from other St. Petersburg movers?
Unlike a lot of movers, I'm not in it for the quick buck. I know that the only way to build a company is to maintain a great reputation. That means paying attention to the customers' needs. When we say we treat our customers like family, we mean it.
Should you decide to move with us, you'll be assigned a personal moving coordinator who can answer any questions you may have and will ensure that everything goes smoothly.
We offer customized moving packages that can save you money or time, depending on your priorities. But we never skimp on service.
If you have a move coming up, reach out to us. There's never an obligation and we'd love to get to know you.
CALL US TODAY FOR A FREE NO OBLIGATION QUOTE AND DISCOVER THE NUMEROUS BENEFITS OF HIRING OUR MOVING COMPANY FOR ALL YOUR MOVING NEEDS.
​
BestPrice Movers St. Pete
(813) 724-3311