Why BestPrice Movers is Becoming Spring Hill's Favorite Moving Company
If you are looking for a mover in or around Spring Hill, FL, I get that it can be overwhelming. There are literally dozens of movers to choose from, so why would someone choose Best Price Movers?
What is moving in Central Florida like?
Over the last few years, we've witnessed Central Florida becoming one of the hottest moving markets. In 2020, Central Florida was one of the three most popular moving destinations in the country. We became the perfect destination for people looking to escape the cold and sky-high real estate prices.
What is it like to live in Spring Hill?
About 40 miles north of Tampa and easily accessible from anywhere in the Tampa-St. Petersburg area, Spring Hill is the quaint bedroom community you'd imagine. It isn't just a suburb, though.
Despite the city's rural feel, the last census count listed our population at around 111,000 people. That is a respectable size almost no matter where you're from. We have plenty of restaurants and activities.
Spring Hill is a wonderful place to raise a family. There are plenty of public and private schools, some of which are ranked among the best in Florida. With a median home price well below the national average, Spring Hill is affordable.
Most homes come with nice-sized yards, which means privacy from your neighbors when you want it. But people in Spring Hill are so friendly, you may not want it.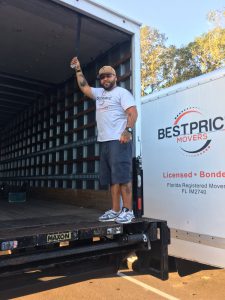 Why did I open BestPrice Movers in Spring Hill?
I grew up in the military, which means I moved a lot when I was a kid. During that time, I saw it all. Most of our movers were great. They taught me how movers should treat customers. Some of our movers weren't so great though. Some were clumsy and slow. Others seemed to have no idea how to treat customers.
After all that moving, it dawned on me one day that I should take everything I've learned from all those military moves and open Central Florida's best moving company, for both military and civilian folk.
What kind of services does BestPrice Movers offer in Spring Hill?
Like all those big-named military movers, BestPrice Movers is a full-service moving company. That means we offer local moves within Spring Hill and Central Florida and long-distance moves throughout the Continental United States.
When you reserve a move with Best Price Movers, we'll assign you your very own moving coordinator. Our efficient and careful packers will protect all your breakables and ensure that everything, breakable or not, is kept clean and organized.
If you're on a budget or you want to pack your own goods, we offer multiple features at no additional cost to you. We don't charge you for the use of our wardrobe boxes. We wrap all your furniture at no additional cost. Even the tape we use is free.
We will disassemble and reassemble your beds and any other furniture that needs it. And of course we'll always protect your home.
If you want to see why there's so much buzz around Best Price Movers, reach out to us. There's never any obligation.
CALL US TODAY FOR A FREE NO OBLIGATION QUOTE AND DISCOVER THE NUMEROUS BENEFITS OF HIRING OUR MOVING COMPANY FOR ALL YOUR MOVING NEEDS.
​
BestPrice Movers Spring Hill. FL
(352) 358-7677