New Port Richey Is One Of The Hottest Moving Destinations; See Why
New Port Richey is one of the smaller towns in our Central Florida area, and maybe that's why we love it so much and it might be why we seem to be moving so many people to New Port Richey.
New Port Richey might only be four square miles, but small doesn't mean boring. There are 10 parks, three of which are dog-friendly. Many of those parks sit along the banks of the Pithlachascotee River, which flows throughout the entire city.
The New Port Richey recreation center is worthy of something from a much larger city. In its 35,000 square feet, there are four pools, tennis courts, an indoor skate park and a host of classes.
The downtown area has a surprising amount of shopping, cafes, restaurants and a great nightlife. Best yet, New Port Richey offers a lower cost of living than most of the Tampa area.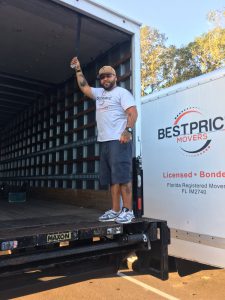 Why did I open BestPrice Movers in New Port Richey?
Central Florida is one of the top moving destinations in the country. We're pretty proud of that and it's keeping us busy.
You could say I grew up in the moving industry, or at least watching it. Like many in Florida, I was born into a military family. Not surprisingly, we moved a lot. We had great moves and great movers, but we also had some horrible ones. I don't want anyone experiencing some of the nightmares we had.
Fortunately, I learned a lot during those moves. I learned how to pack. I learned that some movers are really kind and empathetic, and others, not so much. I wanted to start a moving company that had all the best qualities, including top-of-the-line customer service and a highly-skilled team of movers and moving coordinators.
What kind of services does BestPrice Movers offer in New Port Richey?
BestPrice Movers is a full-service moving company. That means we move anywhere within the State of Florida and the Continental United States. We are fully licensed and insured. If you would like us to help you pack, we can do that for you and for a lot less money than you might think. If you're concerned about your moving budget, we completely get it. We'll do everything we can to help save you money.
Regardless of your budget, you'll receive your very own moving coordinator. It's their job to listen to and accommodate your needs. We disassemble and reassemble all your furniture. We give you free use of wardrobe boxes. Even the tape we use during your move is completely free.
If you have a move coming up, or if you're curious, give us a call. Our people are very nice and there's never an obligation.